Simple to use, understandable, with amazing features
Learner drivers in South Africa can prepare for their K53 Learner's and Driver's tests using the product "K53 Test Success" designed for mobile devices as well as the PC. Use of digital revision material has become ever more important in South Africa due to the roll out of computer based assessments.
"K53 Test Success" is published by Imagitech in conjunction with Topscore CC as apps for mobile devices running Android and iOS. It is also available for Windows PCs as download and on PC CD ROMs in South Africa.
The underlying technology is based on Imagitech Fast Track® as developed by Imagitech. The content is an amalgamation of training material provided by local specialists, and Imagitech's in-house expertise. It is unrivalled in its breadth and depth.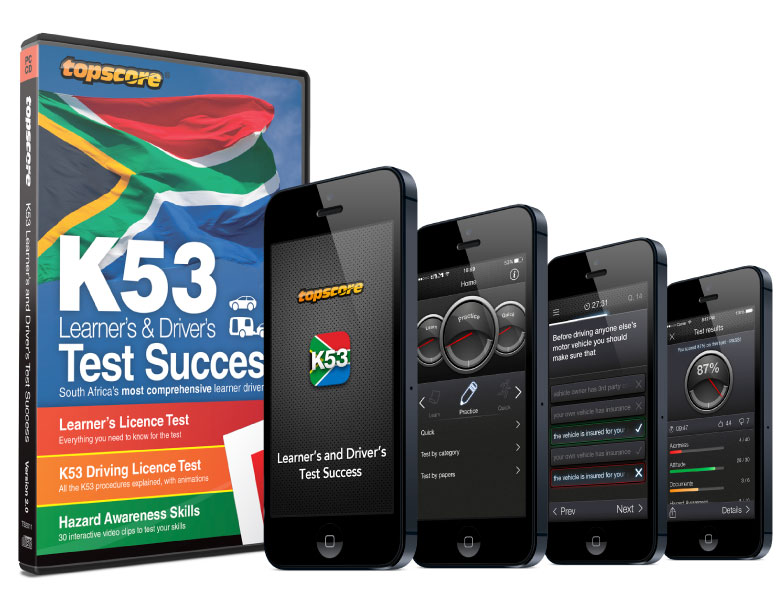 The feedback in relation to the apps as taken from the app stores is consistently positive (average rating is 4.49 stars out of 5) with the following being taken directly from the stores:
Emfen03
Great app. This is a great app for your learners, I passed on my first attempt. Questions are good and have explanations if you don't understand. I highly recommend this app.
Raricoza
Really useful app. Found this really useful, easy to use, and good for learning and confidence building.
Angelopool1-2
Very helpful and resourceful. With the only paid purchase being removing the ads, this app is perfect for learning for pretty much any class of license. The testing system and the ability to check all your data and previous tests as well as the flagging function is immaculate. Hats off to the creator of this app, I am indebted to you.
david max brown
Learning to drive. This app is so easy to use and just what I need to practice and know when I am ready.
Previous
Next
---
For further information please go to www.topscore.co.za or follow the direct links to the app stores for the apps:
For further information about these products or how we can assist you in creating a similar range of training and revision products please contact us.